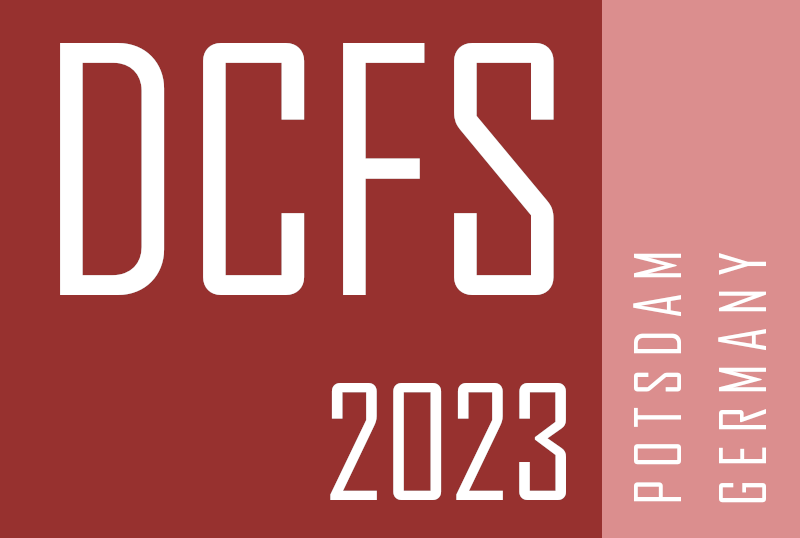 DCFS 2023 - 25th International Conference on Descriptional Complexity of Formal Systems

July 4 - 6, 2023, Potsdam, Germany
Important Dates
Submission of Abstract (to EasyChair): March 10, 2023
Update of submission to Full Conference Paper: March 13, 2023
Notification of Acceptance: April 1, 2023 April 8, 2023
Final version for proceedings: April 20, 2023
General Information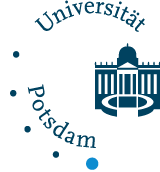 The 25th edition of DCFS is organized by the Department of Computer Science of the University of Potsdam, Germany, and by the IFIP Working Group 1.02 "Descriptional Complexity". The general webpage of the DCFS conference series is available at http://www.informatik.uni-giessen.de/dcfs/.
Proceedings
The conference proceedings will appear as an LNCS volume. For all LNCS volumes of the DCFS conference series see SpringerLink: https://link.springer.com/conference/dcfs
Special Issue
A special issue of the journal "Information and Computation" will be devoted to revised and extended versions of selected papers of the conference.
Topics
Original research papers concerning the descriptional complexity of formal systems and structures (and its applications) are sought for DCFS 2023. Topics include, but are not limited to:
Automata, grammars, languages and other formal systems; various modes of operations and complexity measures.
Succinctness of description of objects, state-explosion-like phenomena.
Circuit complexity of Boolean functions and related measures.
Size complexity of formal systems.
Structural complexity of formal systems.
Trade-offs between computational models and mode of operation.
Applications of formal systems -- for instance in software and hardware testing, in dialogue systems, in systems modeling or in modeling natural languages -- and their complexity constraints.
Co-operating formal systems.
Size or structural complexity of formal systems for modeling natural languages.
Complexity aspects related to the combinatorics of words.
Descriptional complexity in resource-bounded or structure-bounded environments.
Structural complexity as related to descriptional complexity.
Frontiers between decidability and undecidability.
Universality and reversibility.
Nature-motivated (bio-inspired) architectures and unconventional models of computing.
Blum Static (Kolmogorov/Chaitin) complexity, algorithmic information.
Program Committee
Henning Bordihn (University of Potsdam, Germany) - co-chair
Szilárd Zsolt Fazekas (Akita University, Japan)
Henning Fernau (University of Trier, Germany)
Yo-Sub Han (Yonsei University, South Korea)
Michal Hospodár (Slovak Academy of Sciences, Košice, Slovakia)
Szabolcs Iván (University of Szeged, Hungary)
Galina Jirásková (Slovak Academy of Sciences, Košice, Slovakia)
Stavros Konstantinidis (Saint Mary's University, Halifax, Canada)
Orna Kupferman (Hebrew University, Israel)
Sylvain Lombardy (University of Bordeaux, France)
Andreas Malcher (Universität Giessen, Germany)
Carlo Mereghetti (Università degli Studi di Milano, Italy)
Nelma Moreira (Universidade do Porto, Portugal)
Dana Pardubska (Comenius Unversity, Bratislava, Slovak Republic)
Giovanni Pighizzini (University of Milan, Italy)
Kai Salomaa (Queen's University, Canada)
Shinnosuke Seki (The University of Electro-Communications, Chofu, Japan)
Petr Sosik (Silesian University Opava, Czech Republic)
Nicholas Tran (Santa Clara University, USA) - co-chair
György Vaszil (University of Debrecen, Hungary) co-chair
Steering Committee
Cezar Câmpeanu (Charlottetown, Canada)
Erzsébet Csuhaj-Varjú (Budapest, Hungary)
Stavros Konstantinidis (Halifax, Canada)
Martin Kutrib (Giessen, Germany, chair)
Giovanni Pighizzini (Milano, Italy)
Rogério Reis (Porto, Portugal)
Kai Salomaa (Kingston, Canada)
Organizing Committee
Henning Bordihn (University of Potsdam)
Tim Richter (University of Potsdam)
Alexandra Roy (University of Potsdam)
Invited Speakers
Pascal Caron (Université de Rouen, France):


Operational state complexity revisited: the contribution of Monsters and Modifiers

Friedrich Otto (Univerity of Kassel, Germany):


On the influence of the various parameters of the restarting automaton on its expressive capacity and descriptional complexity

Rogério Reis (Universidade do Porto, Portugal):


Size matters, but let's have it on average

Jürgen Dassow (Otto-von-Guericke University of Magdeburg):


Ceremonial address on the occasion of the 25th edition of DCFS
Preparation of Submissions
Paper Preparation
Authors should consult Springer's authors' page, carefully read the "Instructions for Authors of Proceedings" (here is a local copy) and use the LaTeX2e Proceedings Templates provided there for the preparation of their papers. These Templates are also available in Overleaf. Springer encourages authors to include their ORCIDs in their papers.
Paper Submission
Submissions to DCFS must not exceed 12 pages, including bibliography, formatted using Springer's LaTeX2e Proceedings Templates. If the authors believe that more details are essential to substantiate the main claims, they may include a clearly marked appendix that will be read at the discretion of the program committee. Simultaneous submissions of papers to any other conference with published proceedings or submitting previously published papers is not allowed. Only electronic submissions in the PDF format are accepted.
The submission process is managed by EasyChair: https://easychair.org/conferences/?conf=dcfs2023
Preparing the Final Version for the Proceedings
The final version of an accepted paper may be up to 15 pages long, if the implementation of the corrections requested by the reviewers requires additional space.
The corresponding author of each paper, acting on behalf of all of the authors of that paper, must complete and sign the "Consent to Publish and Copyright Transfer" form. The corresponding author signing the form should match the corresponding author marked on the paper. Once the files have been sent to Springer, changes relating to the authorship of the papers cannot be made.
The final version should be sent to the email address
containing the following files as attachments:
The final source files, including bib files, images, non-standard LaTeX packages, etc.
A final PDF file corresponding exactly to the final source files.
The "Consent to Publish and Copyright Transfer" form, completed and signed as explained above.
Moreover, if appropriate, please also give us a suggestion for an abbreviated running head, and information about the correct representation of authors' names, where necessary.
Please make sure that you follow the standards set out in Springer Nature's Code of Conduct.
Registration
Early registration (until May 14): € 380
Late registration: € 430
Accompanying person: € 80
The registration fee includes the participation in all sessions, proceedings, coffee breaks, lunches, conference dinner, and conference materials.
Payment
The fee shall be paid by wire transfer.
Bank account number: 7110402844 (held by Landeshauptkasse Potsdam)
Bank name: Landesbank Hessen-Thüringen
IBAN: DE09 3005 0000 7110 4028 44
BIC/SWIFT-Code: WELADEDDXXX
Very important: Please use as purpose of the bank transfer:
KZ: 2306600000054
Travel Information and Accomodation